The Vernon Lamb Archive, Singles & Couples
A Unique Photographic Record of Matlock & District, 1910-1915, and World War One Soldiers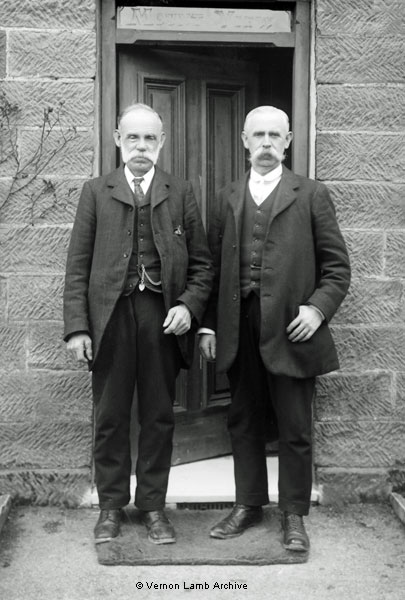 Place:
Matlock
Property / Street / Road:
Mount View, Dimple Road.
Date:
1911 - 1914
Description/Historical Information:
Two older men outside front door [same as VLA5102]. The man on the right is now known to have been Daniel Fleet, an Insurance Agent who was born at Christlton in Cheshire at the beginning of the 1860s. He and his family moved to Mount View after 1911 (they were at Gresley Villa that year) and were still there in 1915.
The gentleman on the left, who appears on other pictures, might be Daniel's brother (either Samuel or Richard).
Daniel also appears with his family on VLA5115 and his two daughters can be seen on VLA5121.
Further information
elsewhere on this site:
- Matlock: The Fleet Family of Bakewell Road and the Dimple.
Image Reference:
VLA5135
Copyright:
© The Vernon Lamb Archive and Robert White.
See About the Archive and About Vernon Lamb, Photographer.