The two nineteenth century photographs above are of the Matlock cab and taxi proprietor Joseph Allen and his second wife Sarah, nee Spencer. They were both taken by the photographic firm of Winter of Derby and date from when the couple lived at Darley Dale. Joseph's photograph was taken about 1883 and Sarah's two or three years later, after the birth of their last child in 1885.
Joseph, the son of Thomas and Mary Allen, was born at Heage in 1856 and christened there on 7 Dec 1856[1]. As his father was an agricultural labourer when Joseph was born, it seems probable that he undertook some seasonal work on farms from the age of 8 or 9; he had left home by the age of 12 to be an indoor farm servant. When he was 15 he worked for William Cupit at Catchill farm, in South Wingfield. He was the sole male 'farm servant indoor' on a 67 acre farm, a hired labourer on an annual contract and living in with the farmer's family. This gave him the chance to learn skills that he would use throughout his working life, such as how to handle horses, and fuelled his ambition to be a farmer himself one day.
His first wife was Mary Ann (Polly) Spencer whom he married at St. Peter's, Belper in 1876 and the couple moved to Beech Cottage on Hackney Lane[4]. They had two children, Mary Hannah[5] and Jack (John Thomas). Unfortunately, Polly died 3 weeks after Jack's birth of septicaemia and exhaustion after childbirth. She was only 25, and was buried near her parents' home at Belper.
| | | |
| --- | --- | --- |
| Mary Hannah, photographed by Norman McAuslan of Belper. | | Jack (John Thomas) taken by Tyson of Sheffield, possibly around the time of the wedding of his sister when he would have been about 20. |

Joseph married for the second time at St. Alkmund's, Duffield in 1879. He and Sarah had four more sons in fairly quick succession: Joseph (born 1880), William (born 1882), Frederick (born 1883) and George (born 1885). They still lived on Hackney Lane and in 1891 Joseph was still working as a carter. The twelve year old Jack was the only son listed as a scholar although all five boys were of school age by then. They moved to Dimple Farm in at either the end of 1897 or early in 1898[2], which Joseph later purchased[3]. The farmhouse was believed to date from 1680, although the first record of the deeds was in 1756, and its walls were two feet thick[4].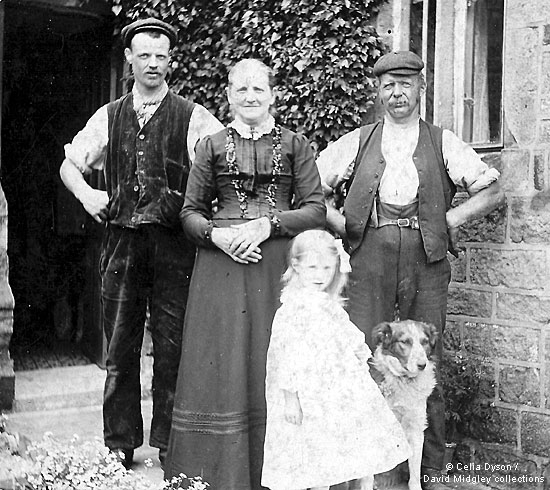 Dimple Farm, about1904, possibly to celebrate the purchase of the farm in October 1903.
In the picture, from left to right, are:
Jack (John Thomas), Sarah and Joseph senior. The girl on the right is probably Amelia Harriet Spencer, one of their nieces[b]. Millie is shown living at Dimple Farm, aged 10, in the 1911 census[7]. She was the daughter of Sarah's brother, George Spencer, who died in 1902.

"Old Joe and his sons - how hard they work, when they were not carting coal to the gas works they were engaged in funerals, what struggles they had up Tag hill to the Church. They never seemed to fail, however, and Allens had a first class reputation. Their home was Dimple Farm and Sunday was their only rest day but Old Joe kept his horses well fed and said what killed one would buy another"[9]. Horses played a major part in the Joseph Allen business and his eldest son's teenage years were spent working for his father and learning how to handle horses.

Joseph Allen, born 1880

William Allen, born 1882

Frederick Allen, born 1883

George Allen, born 1885
The studio portraits were probably taken to mark their 21st birthdays.
In the first decade of the twentieth century there were several changes to the Allen household and by 1911 William was the only son still living at home, although all the sons apart from Joseph junior were working for their father in Matlock[7]. Jack had married Louisa Alice Smith, was working as a carter, and had moved to Yew Tree Cottage on the Dimple. George was farming and living at Holewood Terrace on Smedley Street West with his wife Mary Elizabeth (nee Goodlad). Frederick and his wife Eva (nee Collis) also lived on The Dimple. Joseph had moved to Belper with his wife Annie (nee Wilson) and was running the livery stables on King Street.
| | | |
| --- | --- | --- |
| | | Louisa Alice Allen (nee Smith), photographed around the time of her marriage to Jack on 30th October 1901. Her parents were living at Harvey Dale House in Matlock Dale in the 1860s but her father unfortunately died shortly before she was born[8]. |

Jack helped his father to select horses and was undoubtedly valued as an expert horseman. His brother, William, described driving them both to Borrey's, the undertakers of Midland Road and Silver Hill Road in Derby, to look at their horses[10]. In the run up to the First World War most of the carting work was undertaken by Jack and Frederick. George had to milk the cows before going out with his cart whilst William also had book keeping duties and the motor taxi.
In 1914 William had a pair of houses built across the road from Dimple Farm and moved into one, the Hollies, when he married Edith Slater Brunt in November 1914. Edith used to walk alongside the cart when William delivered coke to Chatsworth House. The First World War had begun by the time of their marriage. Although none of Joseph Allen's sons enlisted immediately, Jack and William joined the army after conscription was extended to married men on 25th May 1916.

Annie, Joseph's wife, probably aged 21.
Both Annie and Joseph were photographed by Frost of Derby.
Bessie, George's wife, probably aged 21.
Edith, William's wife, photographed at her brother's wedding in 1911. She was born at
10 Paxton Street, Accrington,
in 1882. See Brunt & Slater of
Matlock Bank.

Jack enlisted at Derby in August 1916, joining the 2nd /4th Battalion of the King's Own Scottish Borderers and was sent to Widford camp near Chelmsford. His training included digging trenches, attacking a dummy stuffed with straw with a bayonet, and going on 10 to 20 mile marches though the countryside. He was taken ill and died of 'heart failure' on the 4th October, 1916, aged 39[11]. The news reached his family in Matlock by telegram that Wednesday afternoon. He was buried at St. Giles'; his widow, Louisa, was later interred in the same grave. So Jack missed out on the later success of the family business that resulted from their purchase of the premises in Crown Square.